Sooooo y'all wanted to know what a blog hop is, yeah?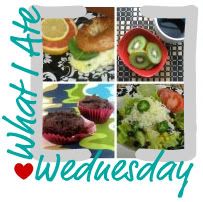 From what I understand (in my embarrassingly limited knowledge of the blogosphere), a blog hop is this fun little dealio wherein bloggers convene to introduce themselves and meet other bloggers. One of my personal favorites is "What I Ate Wednesdays" at Peas and Crayons where bloggers are invited to share their meals for the week. Everyone adds thumbnail image links to their blogs and it's a super cool way to find other like-minded bloggers as well as some great new recipes.
So here's what I've been cooking up this week:
If you've been reading for a while you'll probably notice that a few of these are making repeat appearances. I've been super crazy busy the past couple of weeks and sadly, I haven't had time to play with many new recipes. That's the beauty of having a stockpile of go-to recipes that you know will be winners every time. Got to try them out on some out-of-town guests too and they were surprised, stunned, downright shocked to find out (afterwards) that they were vegan meals. Win Win WIN!
So now that y'all know what a blog hop is, would you guys be interested in sharing links to your recipes here if I start one?