Ok seriously, am I the only person in the blogosphere who's just now finding out about blog hops?
In any case, I was super psyched to find this one at
Peas and Crayons
through the awesomely awesome Lindsay over at
Green Food Green Thumb
and I've found a bunch of cool blogs (not to mention yummy recipes) that I can't wait to check out: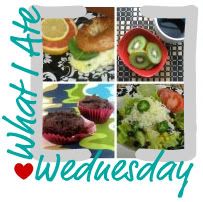 So far my favorite is Heather at
Kiss My Broccoli
- girlfriend cracks me up and her photos look delish!
Let me know what you guys think of this idea and if you join in, please share what you find.
As for my eats, here are some highlights from the past week. Through this little blog project of mine, I've managed to build up quite a stockpile of go-to vegan meals that are earning permanent slots in our menu rotation, some of which the Bear specifically requests. That's progress!!
Lunch: Simple Spinach Salad with Strawberries
Thinking of starting some Sneaky Vegan blog parties here so shout out if you're interested.
Cheers everyone!